I have decided that it is time for a haircut. The last time I got a haircut was while I was pregnant with Abby and my mom treated me to a cut and highlights. My hair, when not pulled back of course, very nearly reaches the top of my jeans. Yeah, hard to believe I know but it is true. Washing my hair usually adds about 10 to 15 minutes to my shower and actually is pretty heavy. That may sound weird, but after piling all of my hair on top of my head and letting go, there is quite a tug as it falls. I think it is time to chop most of it off so I can change things up. Hear are pictures I found online of hairstyles I'm considering.
I really like the shorter length compared to what I have now as well as the movement of the style.
Since I think I have a rounder face, I was considering this 'cause it looks really good.
This actually resembles what I have now only Anne's is shorter.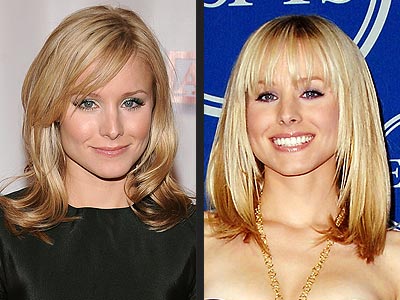 I like Kristen's hairstyle on the left.
First Kate Hudson is beautiful, and for me I really like the flow of the hairstyle on the left.
This hairstyle is nice too.
Okay, so the gist of the hairstyle I'm looking for is a layered look and side swept bangs but something that will take minimal effort to style and get ready. Looking for a cute, fun, and stylish haircut. ::Fingers crossed:: I'll post before and after pictures because I'm pretty sure that most people have not seen my hair down in quite some time....it just takes soo much work to make it look nice because there is just so much of it! :)